Its the Defense... Simple.
Posted by: warrenweelim on Friday, August 31, 2007 - 10:50 AM
Lakers Blog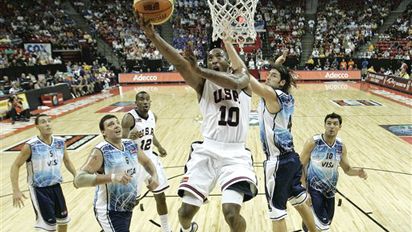 Kobe has once more given the world a reason to appreciate the kind of player that he is. LeBron and Melo can go all out scoring all the points but credit is given where credit is due - Kobe Bryant's defense.

Both LeBron and Melo played in '04 and '05 tourneys... Yet in all their greatness, they could not pick that gold. It just shows you what Kobe brings to this team. Now they are crushing opponents by 30+ points. They basically end the game in the 2nd quarter and cruise the rest of the way.

But notice that the game is quite tight in the beginning. Argentina put up a decent 1st quarter, and so did Brazil. Kobe rests on the 8th minute mark as Michael Redd comes off the bench for him. As soon as the 2nd quarter kicks in, the ballgame is won. Reason? Defense. Kidd out, Billups in. LeBron out, Prince in. Melo out, Amare in.

Just like team USA, the Lakers have to look at it from this perspective. There is too much focus on Bynum's 16-10 and Kwame's 14-10 but no one seems to address that these two centers have to bust their chops defensively. If both players could average 10-10-2bpg, then we would not be deficient anymore. Defense is where we missed out last year, its how Leandro Barbosa gets a field day facing Smush Parker and the rest of the Lakers.

It is also how Farmar has to perform, thats why I like him better than Crittenton. At 6'5 Critt can also earn PT by playing some 2 behind Kobe. This will also enable him to spark his jump shot better other than on a read-and-react Triangle PG. But if both PG could show some focus on defense, we would already be a different team.

Trading for KG would have been disastrous. I'll be the 1st to say I was relieved we did not go all out for him as much as Ainge did. After all, what has Ainge and Rivers got to lose? They own the East's worst record and the league's second worst last year. You can't get lower than that.




I suggest we go after AK47 after falling off from KG and JO. He would fit perfectly in a systematic offense and Euro-friendly city. I think AK shall perform really well under Jax. His defense and all around game will be appreciated and we will reap the rewards very soon. Nevermind the huge contract if we can squeeze in Radmanovic in the deal.

Kwame Brown + Vlade Radman + Mo Evans + 08 1st
-- for --
Andrei Kirilenko + Gordan Giricek

Utah gets an all-important cap relief in prep for Deron's extension. They get a much-needed 2 guard in Evans and they get a good shooter to back up for Matt Harpring. Most of all, they get an 08 1st as a bonus.

Farmar / Fisher / Crittenton
Kobe / Giricek / Karl
Odom / Walton / Sasha
AK47 / Cook / Turner
Turiaf / Bynum / Mihm

The Lakers meanwhile will get a speedy defensive lineup with Odom shifting to 3 (his natural position) and AK plays 4 (his successful and more natural position with the Jazz... he sucked when he shifted to playing the 3). Turiaf or Mihm caps off the defensive lineup as Bynum prepares for his time. With this lineup, we can afford one more year to wait on Bynum.


Discuss |
Email This
Year of the Yi
Posted by: warrenweelim on Tuesday, August 28, 2007 - 02:14 AM
Lakers Blog


The thought makes perfect sense. From the marketing standpoint, it is even better. Yi Jianlian was drafted by Milwaukee 6th over-all in the 2007 NBA draft. While everyone is already celebrating their picks in this year's very deep class, Milwaukee seems to be joining Cleveland, Denver and Indiana as teams that had no picks. Yi's case is different. While it may be obligatory that he plays for the team that drafted him, the Bucks may have no choice but to concede the fight. The harder they struggle, the tougher it gets. Yi is like a quicksand.

There are 2 sides to every story - side A talks about Yi not wanting to play for a small-Asian-populated state. Living in Wisconsin brings about too many complications for this new-age Chinese star that his agents would prefer it if he landed in a better state. Side B is more like the truth. It still uses the illusion that Yi prefers a bigger destination to take off his career but its really about the money. Milwaukee simply cannot supply the Billions of Chinese fans the excitement of Yi's game. Whereas, LA can. In fact, LA is perfect.

The initial report was that the Lakers were offering Evans, Kwame and Farmar for Yi and Bobby Simmons. The chances of this deal pushing through look fair to possible but the Bucks would have to think long and hard on this one. They should atleast take back a prospect in return for Yi and Simmons is simply a salary dump. The Bucks should atleast demand Gazduric is taken as well. In assessing the possibilities and financial implications, LA can actually accommodate this deal - send Kwame, Evans and Crittenton instead of Farmar... then cater for Gadzuric's contract by sending out Sasha and Cook as cap relief. Cook runs for 3 years only with the 3rd year as player option.

LA can also seek other teams to send Simmons away - the Clippers being the most logical destination. Before his season-long injury, Simmons had a breakout season with the Clippers. Now with Brand out, someone like Simmons to pair up with Maggette might do the trick. All we need are some expiring contracts to alleviate the payroll and some picks to balance the deal. The Simmons factor can be a separate deal too but it would be better for us financially if we dealt him immediately. The Clippers would be more than willing to send Cassell and Aaron Williams + 08 1st (top 10 protected) for Simmons.

As for the Bucks, parting with Yi comes with an incentive - salary relief for non-starters and the chance to move back Charlie Villanueva to SF. Evans is more like a Simmons-type of player for a fraction of the price to back up for Michael Redd. They effectively replace Gazduric with Kwame less the baggage and altogether a better player defensively to pair up with Bogut for a tough defensive frontline.

Yi is probably Buss's marketing wet dream too. But he is more than just money, he is the real deal - and these are not just the rumor-mongerers talking. Why pay 20M for an oft-injured star when we can grow our own? Lastly, LA will be significant once more. We will have 2 19-yr old 7'0 nukes to insure our future and to be a real team - Kobe or no Kobe. Of course, Kobe will realize that the Lakers are still his team and that legacy part is a far greater concern for him than suckling to his emotions at the moment.

Watch out Laker fan, a trade is coming.


Discuss 3 Reviews/Comments |
Email This
Kobe's Mission by RandyPandy
Posted by: Dave on Sunday, August 26, 2007 - 04:21 PM
Lakers Blog
Bryant is the best offensive talent in the league today. He will not back down from any challenge and will certainly raise up the ante if need be. He is as lethal as his nickname, Black Mamba, and will strike you from all angles.

However, some people still think of him as a selfish player. Some people say that he is a brat and should be put in his place. Some people think that Kobe needs to tone down his public tirade asking to be traded. Those are the same people that have watched his 81 point game and said he shot the ball too much.

Well, it's either you love the guy or you hate him. that simple.

This is a letter to all the haters out there. You better listen and listen good.

Kobe has his own life to live. If he wants it to be filled with a lot of media and controversy, then let him be. It is his one life to live. You just don't realize that he has something brewing. Something you guys don't know. He has this mission. He has this certain urge inside him that wants to prove all the nay-sayers wrong.

He wants to win that next championship without Shaq and he will. It is just a matter of when and where because for sure, Kobe will not accept that he has just three rings. He wants to add to that, and if that means discarding his beloved purple and gold, then he will. The man wants to win, and if he feels that his current team is not helping him to achieve that goal, then he walks. If the Lakers don't make any drastic changes within this season, I am sure that Kobe will opt out of his contract and move out East.

He wants to win the gold not for himself, but for the USA. It has always been black and white with Kobe, and he knows that. He has shouldered the responsibility of bringing that lost glory back. Expect the haters to say that it was all Kobe's fault when they lose and say it was Kobe who was great when they win it all. He is their x-factor now. He is the greatest and biggest advantage Team USA has against all the competition because no one has that same killer instinct as he does. His body is built for basketball in general, be it international type of play or plain streetball, he will compete to win.

He wants to regain that image he had when he just started out. We all know that Kobe is a private person. His habits are different from others and he likes it that way. But what really derailed his image was that Colorado scandal. He wants to prove the public that everybody can make mistakes and it is how you rise up from that mistake that matters.

Kobe is just human. And every human has a mission in life. It just so happened that we share in Kobe's missions and we support him in his. Just don't let me tell you "I told you so" when Kobe proves everybody wrong.

Just you wait...


Discuss 3 Reviews/Comments |
Email This
Lakers Schedule for 2007-2008 Season
Posted by: Dave on Thursday, August 02, 2007 - 08:19 PM
Laker News
The official regular season schedule for the Lakers have been released. The opener will be a home game against Yao Ming and the Houston Rockets. The schedule includes 33 nationally televised games (TNT/ESPN/ABC/NBA TV). Of note is a tough looking 9 game road trip from January 31st through February 13th.

_____________

October
Tue 30 vs Houston 7:30pm

November
Fri 02 @ Phoenix 7:30pm
Sun 04 vs Utah 6:30pm
Tue 06 vs New Orleans 7:30pm
Fri 09 vs Minnesota 7:30pm
Tue 13 @ San Antonio 5:30pm
Wed 14 @ Houston 6:00pm
Fri 16 vs Detroit 7:30pm
Sun 18 vs Chicago 6:30pm
Tue 20 @ Indiana 4:00pm
Wed 21 @ Milwaukee 5:00pm
Fri 23 @ Boston 4:30pm
Sun 25 vs New Jersey 6:30pm
Tue 27 vs Seattle 7:30pm
Thu 29 vs Denver 7:30pm
Fri 30 @ Utah 6:00pm

December
Sun 02 vs Orlando 6:30pm
Tue 04 @ Minnesota 5:00pm
Wed 05 @ Denver 6:00pm
Sun 09 vs Golden State 6:30pm
Thu 13 vs San Antonio 7:30pm
Fri 14 @ Golden State 7:30pm
Sun 16 vs LA Clippers 6:30pm
Tue 18 @ Chicago 5:30pm
Thu 20 @ Cleveland 5:00pm
Fri 21 @ Philadelphia 4:00pm
Sun 23 @ New York 9:00am
Tue 25 vs Phoenix 2:00pm
Fri 28 vs Utah 7:30pm
Sun 30 vs Boston 6:30pm

January
Fri 04 vs Philadelphia 7:30pm
Sun 06 vs Indiana 6:30pm
Tue 08 @ Memphis 5:00pm
Wed 09 @ New Orleans 5:00pm
Fri 11 vs Milwaukee 7:30pm
Sun 13 vs Memphis 6:30pm
Mon 14 @ Seattle 7:00pm
Thu 17 vs Phoenix 7:30pm
Mon 21 vs Denver 7:30pm
Wed 23 @ San Antonio 6:00pm
Fri 25 @ Dallas 5:30pm
Sun 27 vs Cleveland 12:30pm
Tue 29 vs New York 7:30pm
Thu 31 @ Detroit 4:30pm

February
Fri 01 @ Toronto 4:00pm
Sun 03 @ Washington 9:00am
Tue 05 @ New Jersey 4:30pm
Wed 06 @ Atlanta 4:00pm
Fri 08 @ Orlando 4:00pm
Sun 10 @ Miami 12:30pm
Mon 11 @ Charlotte 4:00pm
Wed 13 @ Minnesota 5:00pm
Tue 19 vs Atlanta 7:30pm
Wed 20 @ Phoenix 6:00pm
Sat 23 @ LA Clippers 7:30pm
Sun 24 @ Seattle 6:00pm
Tue 26 vs Portland 7:30pm
Thu 28 vs Miami 7:30pm
Fri 29 @ Portland 7:30pm

March
Sun 02 vs Dallas 12:30pm
Tue 04 @ Sacramento 7:00pm
Fri 07 vs LA Clippers 7:30pm
Sun 09 vs Sacramento 6:30pm
Tue 11 vs Toronto 7:30pm
Fri 14 @ New Orleans 5:00pm
Sun 16 @ Houston 4:00pm
Tue 18 @ Dallas 5:30pm
Thu 20 @ Utah 7:30pm
Fri 21 vs Seattle 7:30pm
Sun 23 vs Golden State 6:30pm
Mon 24 @ Golden State 7:30pm
Wed 26 vs Charlotte 7:30pm
Fri 28 vs Memphis 7:30pm
Sun 30 vs Washington 6:30pm

April
Wed 02 vs Portland 7:30pm
Fri 04 vs Dallas 7:30pm
Sun 06 @ Sacramento 6:00pm
Tue 08 @ Portland 7:00pm
Thu 10 @ LA Clippers 7:30pm
Fri 11 vs New Orleans 7:30pm
Sun 13 vs San Antonio 12:30pm
Tue 15 vs Sacramento 7:30pm


Discuss |
Email This
Derek Fisher's Return Home
Posted by: JamFan on Friday, July 13, 2007 - 10:53 AM
Lakers Blog
ALERT: A news conference has been scheduled for 11AM Friday to formally announce Derek's return to a Laker uniform. Read the following related article

Where have you gone Derek Fisher, our Laker Nation turns its lonely eyes to you.

It was odd when Derek Fisher left the Lakers after a run bringing 3 World championships to Los Angeles. Drafted with the 24th pick by Jerry West in 1996, he was with the Lakers for 8 years before he parlayed his success to a free agency contract that was to rich for the Laker blood. So he left for Golden State. Shaq was gone. Then Derek was gone. For some reason it was more odd seeing Derek in a Warriors uniform than Shaq in a Heat jersey. Derek was family, and he just wasn't wearing the right colors anymore.

He was later traded to Utah where he eventually became the backup point guard to a younger faster version of himself. It was like watching a family member who had left home and was lost wandering in the wilderness. Where did Derek Fisher go and how come he is not in Los Angeles? It never did seem quite right. If ever there was a guy who should have started and finished as a Laker it was Derek Fisher.

He never was the fastest, the best, a dead eye shooter, or a huge assist guy, he was just effective. A quality person who was always there when you needed him. He was always there when you needed a big shot to save the day or an assist to get the win, or a flop to stop the opposition. He bled purple and gold. So on the day he signed to leave we all sort of said.... huh!

But now our long lost brother is coming home. Instead of being a part of a Lakers Championship Team, he is now a part of the puzzle to try and save the franchise from oblivion. A good friend to Kobe who will try to calm his anxiety about the future of the franchise. He will again become the starting point guard only to eventually give way to Jordan Farmar or Javaris Crittenton. Eventually, He will once again give way to a younger faster version of himself. His shooting percentages that were once respectable dropped off last year, only to come back, but only for the playoffs. At age 33, does he still have some mojo in his tank? Enough to help lead the Lakers back to a deep run in the playoffs? Enough, to hang on until Javaris or Jorden are ready to take over the reins and lead the team further still? Enough to teach our young kids what it means to be a champion PG for the Los Angeles Lakers? I know he has enough to put the family back together again. In a strange way Derek Fisher just may become the spiritual leader of the team. The glue that holds all the pieces back together. If another big trade is coming, where several players may come and go, he will be the guy who will have to turn a bunch of strangers into a new the new Laker family.

Kobe is the warrior, but he just isn't all that good at the family part. He is like the brother who is strong but wanders emotionally and needs to be reigned back in on occasion. For Derek this will be a tough assingment. Is Derek up for the challenge? The Lakers are betting what little they have left that he is? Without a blockbuster trade there is no money in the cap space till to go out and get another player who is capable of making a difference. Drafting Javaris and signing Derek is it. We might have a few shackles left over to sign a role player like Chris Mihm, but a big impact can now only be done if Lamar Odom, Kwame Brown, and or Andrew Bynum are gone. In any trade package, it is likely that one of our three other PG's will be included in the deal. So one of either Sasha, Jordan, or Javaris will be gone as well.

So the confusion over what the Lakers are now going to do is over. We all can focus on one thing. The Trade. If it comes, will be give up to much? Will we get the right player? Will we get the player we want? Do we get KG? Will JO be the guy? Will they have to take a chance on Ron Artest? Whoever it is, Derek will be there to help make it work.

JamFan


Discuss 2 Reviews/Comments |
Email This
Kobe Article from the Press Telegram
Posted by: 80'sShowtime on Thursday, July 12, 2007 - 01:07 PM
Laker News
Hello guys topbuzz newbie here but have been a Lakers fan my whole life. Hard to tell if Kobe's stance is softening or not we can only hope. This article is from the LA daily news.

Excerpt: "If you want, you can call Mitch (Kupchak) up, call those guys up and talk to them about it," Kobe said. "I'm not going to beat a dead horse in the head anymore. Just because too much has been said already. I don't want to get into it no more."

I followed him to the parking lot after the press conference because, you know, Kobe gives some of his best interviews to strangers with digital cameras.

Still, no clarification was coming.

Calling Kupchak up to see what Kobe wants is silly. Kobe has proven quiet capable of speaking for Kobe.

Besides, the Lakers' general manager has already said personal conversations with Kobe are private and the Lakers do not plan to trade him but to build their team around him.

Since Kobe did not take the opportunity Wednesday to say he wanted to remain a Laker, it can only be assumed he still wants to be traded. Which was the last thing he said through his people, I think.

ESPN's Ric Bucher, who started all this intrigue when he first reported an unhappy Kobe might ask to be dealt, was last heard saying the Kobester still wanted out. And the Lakers should trade him, because they didn't want to wonder if he would show up at training camp.

This is a thinly veiled and ridiculous Kobe threat. Bucher's mouth doesn't move about Kobe unless Kobe is behind him pulling strings.

With two more years on Kobe's contract, his leverage is not the best, so he is apparently doing what he can to pressure owner Jerry Buss into changing his mind.

The Lakers are no doubt hoping to change Kobe's mind by signing Derek Fisher to a three-year contract. Fisher was drafted by the Lakers the same year they traded for then 17-year-old Kobe. They became close friends, the solid Fisher one of the few Lakers who could be a bridge between Kobe and Shaquille O'Neal.

"He's a very, very special person and very dear to me," Kobe said of Fisher. "We've remained friends even when he was at Golden State. We continue to talk regularly."
Discuss |
Email This
Watch Summer League Live - Free
Posted by: JamFan on Friday, July 06, 2007 - 01:45 PM
Lakers Blog
I assume the following article is true and correct?

ALL Summer League games on NBA TV and on NBA.com for free

You can watch every game of the 2007 NBA Summer League live!

NBA TV will be carrying 28 games live, and all 55 games will be available as a live video webcast on NBA.com.

Available for both Dial Up & Broadband

Check out the complete 2007 Vegas Summer League Schedule
http://www.nba.com/summerleague2007/schedule/

All times are Eastern.

TIME TEAMS VENUE WATCH
Friday July 6th
4:00 PM San Antonio vs. Philadelphia Cox Pavilion Webcast
6:00 PM Dallas vs. Seattle Cox Pavilion NBATV, Webcast
8:00 PM Memphis vs. Team China Basketball Cox Pavilion NBATV, Webcast
10:00 PM Boston vs. Portland Cox Pavilion NBATV, Webcast

Saturday July 7th
4:00 PM Golden St. vs. New Orleans Cox Pavilion Webcast
6:00 PM Detroit vs. Philadelphia Cox Pavilion Webcast
8:00 PM San Antonio vs. Cleveland Cox Pavilion Webcast
10:00 PM Team China Basketball vs. Sacramento Cox Pavilion Webcast

Sunday July 8th
4:00 PM Dallas vs. Portland Cox Pavilion NBATV, Webcast
6:00 PM LA Lakers vs. Milwaukee Cox Pavilion Webcast
8:00 PM Team China Basketball vs. Cleveland Cox Pavilion NBATV, Webcast
10:00 PM Denver vs. LA Clippers Cox Pavilion Webcast

Monday July 9th
4:00 PM San Antonio vs. Boston Cox Pavilion NBATV, Webcast
6:00 PM Detroit vs. Memphis Cox Pavilion NBATV, Webcast
8:00 PM Philadelphia vs. Golden St. Cox Pavilion NBATV, Webcast
8:30 PM Minnesota vs. New Orleans Thomas & Mack Center Webcast
10:00 PM Seattle vs. New York Cox Pavilion NBATV, Webcast
10:30 PM Cleveland vs. Phoenix Thomas & Mack Center Webcast

Tuesday July 10th
4:00 PM Sacramento vs. Washington Cox Pavilion NBATV, Webcast
6:00 PM Dallas vs. Denver Cox Pavilion NBATV, Webcast
8:00 PM Philadelphia vs. LA Lakers Cox Pavilion NBATV, Webcast
8:30 PM San Antonio vs. Golden St Thomas & Mack Center Webcast
10:00 PM New York vs. Team China Basketball Cox Pavilion NBATV, Webcast
10:30 PM Houston vs. LA Clippers Thomas & Mack Center Webcast

Wednesday July 11th
4:00 PM San Antonio vs. Minnesota Cox Pavilion Webcast
6:00 PM Washington vs. Detroit Cox Pavilion NBATV, Webcast
8:00 PM Philadelphia vs. Phoenix Cox Pavilion NBATV, Webcast
8:30 PM Seattle vs. Milwaukee Thomas & Mack Center Webcast
10:00 PM Boston vs. Team China Basketball Cox Pavilion NBATV, Webcast
10:30 PM LA Lakers vs. Portland Thomas & Mack Center Webcast

Thursday July 12th
4:00 PM Denver vs.Detroit Cox Pavilion Webcast
6:00 PM Memphis vs. Cleveland Cox Pavilion NBATV, Webcast
8:00 PM Dallas vs. Houston Cox Pavilion NBATV, Webcast
8:30 PM New Orleans vs. Milwaukee Thomas & Mack Center Webcast
10:00 PM New York vs. Sacramento Cox Pavilion NBATV, Webcast
10:30 PM LA Clippers vs. Minnesota Thomas & Mack Center Webcast

Friday July 13th
4:00 PM New Orleans vs.Phoenix Cox Pavilion Webcast
6:00 PM Memphis vs. LA Clippers Cox Pavilion NBATV, Webcast
8:00 PM Boston vs. Milwaukee Cox Pavilion NBATV, Webcast
8:30 PM Denver vs. LA Lakers Thomas & Mack Center Webcast
10:00 PM Houston vs. Washington Cox Pavilion NBATV, Webcast
10:30 PM Golden St. vs. Seattle Thomas & Mack Center Webcast

Saturday July 14th
4:00 PM Dallas vs. Boston Cox Pavilion NBATV, Webcast
6:00 PM Minnesota vs. Memphis Cox Pavilion NBATV, Webcast
6:30 PM Detroit vs. LA Lakers Thomas & Mack Center Webcast
8:00 PM Cleveland vs. Washington Cox Pavilion NBATV, Webcast
8:30 PM Houston vs. Sacramento Thomas & Mack Center Webcast
10:00 PM New York vs. Golden St Cox Pavilion NBATV, Webcast
10:30 PM Phoenix vs. Portland Thomas & Mack Center Webcast

Sunday July 15th
4:00 PM Milwaukee vs. Washington Cox Pavilion NBATV, Webcast
6:00 PM New York vs. Denver Cox Pavilion NBATV, Webcast
8:00 PM Minnesota vs. Phoenix Cox Pavilion Webcast
8:30 PM Houston vs. New Orleans Thomas & Mack Center Webcast
10:00 PM Seattle vs. Portland Cox Pavilion NBATV, Webcast
10:30 PM Sacramento vs. LA Clippers Thomas & Mack Center Webcast


Discuss 1 Review/Comment |
Email This
Luke Walton Re-Signs
Posted by: AGENT18 on Sunday, July 01, 2007 - 05:59 PM
Laker News
Luke Walton reached agreement Sunday with the Los Angeles Lakers on a six-year, $30 million contract after general manager Mitch Kupchak placed a call one minute after midnight to express the team's interest in retaining its best unrestricted free agent.They called at the earliest possible moment, and we worked on it all day," agent Lon Babby said. "They wanted him back, and Luke wanted to be there. We wanted to make every effort to get an agreement.before we went out and looked at any other teams."


Discuss |
Email This
JamFan's Fast Break - Free Agency Begins
Posted by: JamFan on Saturday, June 30, 2007 - 09:26 PM
Lakers Blog
Up until now we have relied on trade rumors to lift our spirits. We need to upgrade the Laker roster, and bringing in Kevin Garnett or Jermaine ONeal would certainly be a huge step in that direction. It is also a huge step towards making Kobe happy. But trades are not all that easy to make. It takes two to tango.

The draft was the next avenue towards upgrading the roster, but everybody had picks and there is no reason to believe that our draft picks were any better than those selected by other teams. And we certainly didn't get Kevin Durant. But we did get a player in Javaris Crittenten that most Mocks had going higher than 19, and we did need a PG, so it seems a solid pick. He is also a very quick tall guard that Coach Jackson has always preferred. Sun Yue is a mystery player for me so I went and looked at several video tapes on him mostly because I was intrigued by a player who is supposed to be a SF and yet he averaged over 10 assists a game last season. After watching all the video, I still do not know what to think. He does seem to play smooth and effortless.

So what do we do now. Free Agency begins at 9PM Pacific time. We have a little money so spend so lets go spend it. A trade could effect how much we have available, but as for now we know we can spend our MLE of about 6 Mil a year to bring a free agent. The Lakers will also talk with Luke Walton about returning at an increase in pay, and Chris Mihm about returning at a decrease in pay.

It doesn't do much good for us to talk about Vince Carter, Chauncey Billups, or Rashard Lewis, because we would have to do a sign and trade to bring in those guys. I guess there is a chance you could get PG Mo Williams or G/SF Gerald Wallace with the MLE, but they would really have to want to come to LA and play with Kobe. Others who might be MLE level players are Desmond Mason or Grant Hill, but neither of those guys are PG's.

That brings us to Theo Papaloukas. It is unclear what NBA team he would want to go to, but he has signaled that he might be willing to jump over to the NBA. There have been rumors of the Lakers being interested in Theo, but reports are that they have not actually offered him a deal. Could it be that they really couldn't until 9PM Saturday. After watching a lot of tape on theo, I felt that he reminded me most of how Steve Nash dishes the ball. He looks more athletic that Steve Nash. Many of you might remember the now infamous World Championships game when he humbled the best PG's that Team USA threw at Theo trying to stop him. Some have questioned how his game would adjust to the NBA. Based on history, the NBA might just have to adjust to Theo.

The team that gets him just might be the team that is willing to buy out his Euro contract. It is a problem. If he is the best PG that we can get with MLE money, I feel that Jerry Buss should shell out the dough to buy out his contract, because that money doesn't count against the cap. It just hurts Jerry's pocket book. But shelling out the money would go a long way to convince Kobe that he is serious about bringing the talent to give Kobe his best chance of winning a championship. Theo is the best PG in Europe, and was the best PG on the floor when they played Team USA. The best NBA point guards looked like girls trying to stop Theo. He went for 25 and dished off a bunch of assists. But what I remember most is that he played real smart and had great court sense. The kind of court sense that Steve Nash has. Don't take my word for it. Go look at some tape. It will impress you.

For less than MLE money we could go for PG's Steve Blake, Jason Hart, Jannero Pargo, Chucky Atins, Gary Payton, or Kenyon Dooling, but they are second tier players who aren't even an upgrade over Smush. Signing any of them is certainly not going impress Kobe.

There are other players that we might be able to sign for the MLE (or less) that could come in and help, but our roster is set and we know who are starters are going to be, except at PG.

All of the trade rumors this last month have revolved around "Bigs" like KG, JO, or Marcus Camby. The only trade rumor involving a PG was Cook for Luther head. But Luther Head is a second tier PG at this point. But that trade does not really cost us any cap space. And after selecting Javaris it is off the table. If we eventually trade for one of our "Big" targets, we will still need a PG. And after spending 3 or 4 of our assets to bring that impact player in, the MLE will still probably be the only way to get a good veteran PG to our roster.

So the free agent period begins. There will be a lot of talk, followed by rumors, more talk, and finally one by one the best will slowly be signed by other teams and Kupcake will be left standing there holding the bag, and empty bag. Or will he? He can only improve the team in one of three ways. If he can't make the big trade, and if you do not have a low lottery pick, then you better find a way to sign a first tier free agent PG. If Kupcake doesn't, it's one, two, three strikes your out.

JamFan


Discuss |
Email This
Lakers Draft Javaris Crittenton, Sun Yue, & Marc Gasol
Posted by: Dave on Friday, June 29, 2007 - 03:18 AM
Laker News
[excerpt] "We were surprised that he dropped to us at 19," Kupchak said. "We do need help in the backcourt, but he is another young player. We've got a young point guard that we like. I'm sure Jordan [Farmar] is wondering right now, 'Why did the Lakers do what they did?' But that stuff gets sorted out during training camp and during the season."

As if on cue, Farmar arrived for a workout at the team's training facility at 9 p.m.

Kupchak mentioned Crittenton's size and strength as plusses. Crittenton, who played one season at Georgia Tech, also ran the triangle offense at Southwest Atlanta Christian Academy High.

"I'm a Laker fan," Crittenton said. "I watch a lot of Kobe when I have a chance. I'm a Magic Johnson fan. To be honest, I was a little surprised that I slipped that far. I'm thankful that they selected me. Things happen for a reason."

The Lakers then took 6-7 3/4 Chinese guard Sun Yue with the 40th pick and Spanish center Marc Gasol with the 48th pick.

Yue, 21, has an impressive 34-inch vertical jump, and averaged 13.5 points and 10.5 assists for the Beijing Aoshen of the American Basketball Assn. (The team was suspended from the Chinese Basketball Assn. but subsequently moved to Los Angeles.)

Gasol, the 22-year-old brother of Memphis power forward Pau Gasol, averaged 10.8 points and 5.6 rebounds last season with Akasvayu Girona in Spain.
Discuss |
Email This