Lakers sign Dwayne Mitchell
Posted by: JamFan on Monday, August 04, 2008 - 10:31 AM
Laker News
The Los Angeles Lakers have signed free agent guard Dwayne Mitchell, it was announced today. Per team policy, terms of the agreement were not released.

Mitchell, a 6'5" 220-pound guard out of Louisiana Lafayette, played the majority of last season for the Iowa Energy of the NBA Development League before leaving in February to join Brose Baskets Bamberg in Germany. In 31 games including 29 starts with the Energy, Mitchell averaged 20.4 points, 6.4 rebounds, 3.2 assists and 1.60 steals in 37.3 minutes, earning a spot in the 2008 D-League All-Star game.

In 20 games with Bamberg, Mitchell, 25, averaged 10.7 points, 3.6 rebounds, 2.3 assists while shooting .504 from the field.

Most recently, Mitchell played for the Lakers 2008 Summer-Pro League team in Las Vegas, averaging 6.7 points on .619 shooting, 1.5 rebounds, 1.0 assists and 0.83 steals in 15.0 minutes over six games.
nba.com



Discuss |
Email This
Sasha Stays Home in Hollywood
Posted by: JamFan on Saturday, July 26, 2008 - 02:26 AM
Lakers Blog
I never really believed that Sasha was going to go anywhere. After a long quiet period of not getting any offers, Sasha changed agents. Then there were the rumors of offers from Europe and the possibility of Sasha going overseas to play. But at the end of the day, Sasha loves the LA lifestyle, loves playing for a championship level team, loves being close to Hollywood, and loves living at the action center of the earth. The LA Lakers wanted him back. He wanted to come back. And he actually got top dollar for bench players in the current market. Josh Childress is the only bench player I can think of that got more that 5 Mil and he had to go to Greece to get it. And Josh was over paid. 15 Mil for 3 years was plenty enough to keep Sasha playing....and playing, where he really wants to live anyway. Not to mention Paris Hilton is in town a lot.

JamFan


Discuss 2 Reviews/Comments |
Email This
Ronny Turiaf Ends His Fairy Tale Run In LA
Posted by: JamFan on Friday, July 18, 2008 - 10:18 AM
Lakers Blog
Ronny Turiaf's fairy tale NBA career in Los Angeles as a Laker has come to and end. It was an improbable story. After being drafted by the Lakers and before he ever played a game, he was found to have a heart problem that led to an open heart surgery. His return to the court was faster than most expected, and his heart and his energy, his determination to make it back, was something that endeared him to the fans here. He did it always with that smile. He was sometimes a starter, sometimes the bench player, but always the cheerleader who danced and pranced on the sidelines like no other player in the history of the game. Laker fans probably don't even as yet realize how much they will miss Ronny. But they will notice next season that something is missing. Something is not no longer there. Ronny will be gone. Money can't buy what Ronny Turiaf brings to the world. He makes you smile.

JamFan


Discuss 2 Reviews/Comments |
Email This
Joe Crawford To Lead Lakers Summer League Squad
Posted by: JamFan on Friday, July 11, 2008 - 03:17 AM
Lakers Blog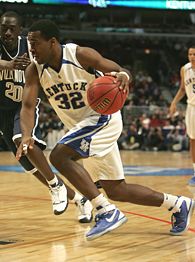 The Lakers were certainly quiet during the NBA Draft this year. Not having a selection until deep into the second round, they went for a promising player from a succesfull program in Kentucky's Joe Crawford. Nothing is guaranteed for Crawford in terms of a contract or a making the team, so he has everything to prove and everything to gain by making a successful showing in Las Vegas with the opening game on Friday against Detroit.

Joe will be joined by Koby Karl, who will try to show that he needs to be kept on the roster next year after being shuttled back and forth to the D League last year. Cedric Bozeman, out of UCLA, had a short stint with Atlanta and is the type of tall PG that Coach Jackson likes. James White, who many believed would one day make it in the NBA is looking for a job and features a high fly act. Dayton's Brian Roberts who lit up the March Madness tournament last year with his prolific outside shooting went updrafted but will be trying to show that he can replace Karl.

Other notables include Marcelius Kemp out of Nevada, Davon Jefferson from USC, and Lorenzo Mata-Real from UCLA. A surprise addition is Yi Li from China. He often plays with Sun Yue who might be joining the Lakers this year. Yi Li at 6'9" is the same height as Sun Yue who plays PG, but Yi Li is a forward.

So we have a pretty good lineup but very few if any roster spots to offer any of the stand outs that might shine during the very short league. These players are mostly hoping just to get an invite to the Lakers Pre Season Camp and another opportunity to show they belong. Good Luck fellas.

JamFan


Discuss |
Email This
The 08-09' Off-Season
Posted by: lakerfanryan on Tuesday, June 24, 2008 - 01:29 PM
Lakers Blog
Haven't been around here much lately so I fugured I was overdue for one of my "plans" or rants some might call it. I made a "plan similar to this a season or two ago and had a lot of response. Here goes round 2...

"Trade Odom!" ...."WTF LO??" ...."WHY IS ODOM ON THIS TEAM?"
At the end of every season that Odom has been a Los Angeles Laker, he has been the scape goat. The guy to blame. The guy to trade. Is Odom really all that bad? Look at this year's playoff stats. Had a great 1st round....2nd round...and 3rd round aganist the defending champions. When the Finals rolled around Odom began to struggle. Showed some signs of life before floating back to the top of the fishbowl. By the time the lakers had lost game 6 Odom was to blame. Why? Because he chokes, or doesnt produce in key situations. Perhaps because of the Boston front line of Pierce who is to quick for Odom....Garnett who is to strong for odom,...and Perkins who is a semi truck with legs. Odom used his speed aganist the Spurs. Length aganist the Nuggets and a combination of both aganist Utah. Don't forget Boston has DPOY in Kevin Garnett and is also the #1 defensive team in the league. I am not an Odom supporter necessairly but I believe we have more problems to address then Odom.

Say we do trade Odom for a Richard Jefferson or Gerald Wallace or Shaun Marion. We will get what we really need in a true, starting quality SF but look at the jam in which we will create. SF Depth Chart:
1. ?
2. Radmanovic
3. Walton
4. Ariza
5. Newble?

5 Small forwards? Newble is unlucky to be resigned but the 4 guys we would have are all equal in talent. The next point to address is the need to TRADE one of these guys. We will get close to nothing for these guys. If we do intend to trade one how about Walton? Radman can hit the 3. Ariza can play D. And Walton....Is Walton. There are no talents that necessairly jump out at you. I would be just fine with trading him to a team such as Seattle who could buy out the contract or stash him at the end of the bench even if it meant we only got a 2nd round pick.

Moving on to the Free Agents...
Sasha.
A few years ago this guy was my least favorite Laker. I thought he was a ball hog and didnt do much for us. But after this year he is one of my favorites. He plays intense defense and can hit the open J. He is the perfect compliment to our second unit. Re-sign him Mitch but please dont go crazy. (i.e. Jason Kapono).
Turiaf.
The cheerleader on the bench. A lot of rumors are swirling around about Utah being very interested in him. I would hate to see him go. I think 2.5 million a year is fair for Turiaf. If Utah goes above this....I believe it will be the end for Ronny in LA.
Free Agents.
After watching the NBA Finals I found one thing we are truly lacking. A bruiser. We need a guy who can pound in the paint. Get in the way. Clog the lane on D and who can still produce on offense. After reading through the forums a bit and searching some FA big men I found our man. Desagana (sp) Diop. Shot blocker. Maybe not the best defender but he can create problems. He is surprisingly athletic for a big man and I think what we truly need is a guy like this. To clean the class, guard guys Gasol can't ang basically get in the way. You never know what can happen with Mitch running a franchise but keep your eye open for a big man this off-season.

As an addition to my precious post ion the forums I will talk about the Lakers draft situation. With only one pick in the draft, and it being second to last, this brings much speculation about what may happen on draft day. 2 days to go to the draft and only rumors thus far. Looking at our cap space, current salaries, and current needs, we are either going to pay a lot of extra money or get more draft picks. More draft picks are definitley an option. We have a few needs on this current Laker team. As I noted earlier, we need a bruiser, a tough post presence. But I dont think this is all. Say we do lose Ronny in free agency. Who is our back up Power Forward? Do we move Odom back to the 4 and start Walton? Doesn't sound like a good plan to me. A little more depth and post presence is all this Laker team is lacking. The older, LTB'ers know I am a fan of Danny Granger because he did come from UNM my hometown University. I may be biased but take a look at JR Giddens SG out of New Mexico. If your curious, look for him on you tube. Very athletic, can hit the J, and averaged around 7 boards a game as a SG. Andy Katz reported that on a one on one workout with Chris Douglas-Roberts out of Memphis that Giddens got the best of him and may be the third best player at his position. Wether I am biased or not, this would be a very safe pick if he was sitting there at 58. But, I would not be surprised at all if Mitch finds a way to get out of the draft completly or trade for a late first rounder or a few other 2nd round picks. Watch for a Luke Walton or Chirs Mihm deal on draft day. I also wouldn't be surprised if we also trade the rights to Sun Yue our pick from last year. With a jam at SF the last thing we need is a combo guard forward. Keep your television tuned in for the entire draft and get excited when Commisioner Stern comes up to the mic and announces "We have a trade to announce". Expect the un-expected.


Discuss |
Email This
Greatest Laker team of all time!
Posted by: SPQR on Monday, June 23, 2008 - 03:38 PM
Lakers Blog
In the history of the Lakers, the roll call is replete with some of the greatest legends of the NBA hardwood and teams that will occupy the rarefied air as among there best of all time. If one could reach back in time and select the cream of the crop to be on the all time Laker team, who would they be? This is one fans list.

I have included only the starting five for the simple reason that I don't know enough about the all the great players from the 50's and 60's to fill in a second team completely. My sincere apologies to so many great players I was forced to omit.

Point Guard: The incomparable Magic Johnson. You want to talk about winning? Try this on for size: A twenty year old off his sophomore national championship year in college comes to a team that hasn't gone to the finals in seven years and over the next 12 years before his retirement from the HIV virus takes them 9 NBA finals, winning five. Now reread that last sentence. Take a moment to think about it. Scary isn't it? His opponents in these finals are some of the best teams of all time: Dr. J's Seventy Sixers, Birds's Celtics, Isiah's Pistons and Jordan's Bulls. All those teams went to multiple finals and all won titles. Magic's team met no patsies in winning their bling. Still the most physically unique player in the history of the NBA. A six foot nine point guard who rebounded like a power forward and could dribble up the floor through the teeth of the defense like he was six inches shorter eliminating the need for an outlet pass on the break. Thirty years later there has still been no player who can approximate what he did on the floor. He powered the greatest fast break in NBA history. Anyone who didn't see this player initiate and orchestrate the Lakers fast break, making spit second decisions on the move frequently forcing the ball up the court in less than three seconds has no idea how fast and how beautiful basketball can be. His engine of destruction would just bury teams in waves of fast break points, turning a contest into blow out before the opposition could even think about what had happened. One of best basket minds of all time and one of the great clutch players in NBA history. As a 20 year old rookie he had to fill in at center for an injured Abdul Jabbar in game six of the NBA Finals against Dr. J's Seventy Sixers in Philly. All he did was jump at center, play all five positions and rack up 42 points, 15 rebounds and 7 assists in leading the Lakers to victory, grabbing the Finals MVP and inaugurating the Showtime Dynasty. Think Michael Jordan could have done that at age 20? Could anyone have? Dr. J said following the game, "He was like a man among boys, only he was a boy among men." Later in Magic's career Julius said of him, "He's the only player I've seen who can score 30 points and dominate a game or score zero points and dominate a game." He could execute the most basic of passes along with the most spectacular or no look ones with equal facility. His height enabled him to look and pass over the heads of a defense like no other guard could. He hid his killer instinct behind a one thousand watt smile and exuberance and overt love for the game that electrified his teammates and fans alike when being cool and emotionless was the in thing in the NBA. The most unselfish of players, willingly sacrificed what could have been a 25-30 point a game scoring average, early career recognition as being better than arch rival Larry Bird and league MVP's so that teammates like Kareem, Wilkes, Mcadoo, Nixon, Worthy, Scott and others could get theirs and team could function at its best. Brought emotion and with Larry Bird, passing and teamwork back to a dead league. When he came into the league in 1979, the NBA finals were on tape delay at 1130 at night, by 1984 the NBA was fasting rising, hottest ticket in sports and a prime time spectacular. He along with Kareem led an end to decades of frustration for the Laker organization by beating Boston in the 1985 Finals. They became the one and only team to every win a ring on Boston's home floor. The term triple double was forced into the NBA lexicon to describe his ability to frequently reach double digits in points, rebounds and assists in a single game. Some of his achievements: College national champion and finals game MVP, Five time NBA champion, three times NBA finals MVP, a three time League MVP, participated in 12 all star game, winning the MVP in 1992, 10 all NBA team placements and an Olympic gold medalist. All time assist leader at his retirement and still holds the all time assist average of 11.2 a game. Named one of 50 Greatest Players in NBA History in 1996. Elected to Naismith Memorial Basketball Hall of Fame. Magic Johnson is recognized as the best point guard in NBA history head and stands alone like the Colossus Of Rhodes among the pantheon of Purple and Gold Gods as the Greatest Laker of all Time. He is on the legitimate short list of players who can be posited as the best player in league history.

Shooting guard: Kobe Bryant. A razor call over Mr. Clutch and the logo of the NBA Jerry West. West was the better teammate and much more mature and stable personality but Kobe's incredible physical skills, scoring acumen and edge in titles (3-1) give him the call here. Except for passing, anything West could do Kobe could do better. The closest thing to Michael Jordan in terms of pure energy and jaw dropping body control and scoring from the two guard spot the league has ever seen. When Kobe is on, he is simply indefensible. A great defense player when he chooses to be so. Played a huge Robin to Shaq's Batman in leading the Lakers back to glory during the three peat after the failures of the post Showtime era. This year became his own Batman, leading HIS team back to the NBA Finals. Owns almost every single season and single game scoring record in Lakers history. If you want to know how amazing this is take a look at just some of the scorers who played for this organization: George Mikan, Abdul Jabbar, Jerry West, Wilt Chamberlin, Egin Baylor, Magic Johnson, Shaquille O'Neal and James Worthy. Already considered by most objective fans and experts the second best shooting guard in NBA history. Some of his achievements include: Three time NBA champion, All NBA selection since 1999, Ten time All Star, all defensive first or second team 8 of the last nine years, league MVP and two time scoring champion. Entering next year at only thirty years of age and surrounded by a talented team, Kobe has plenty of time and opportunity to grab more rings and mount an assault for a position on the top tier of NBA greats.

Center: Kareem Abdul Jabbar. A close pick over five time Laker champion George Mikan who inaugurated the initial Laker dynasty. Kareem matched Mikans hardware with the Lakers and is my choice because he won another ring with Milwaukee and simply because he was the more athletic versatile, longer lived player. He also had the most unstoppable shot in NBA history-the Sky Hook. This man won three straight national championships at UCLA and would have won four if freshmen had been allowed to play in college back then. Jabbar was a blend of finesse and athleticism who could also muscle up for rebounds as well. He was a superb defender and shot blocker and one of the best passing big men of all times. A very cerebral player who understood basketball at all levels. He along with Magic Johnson led the greatest Laker dynasty of all times. Kareem was part of five NBA titles during his stint in Los Angeles and will forever be remembered as a Laker. The epitome of cool and grace under pressure, he made the game look too easy. His fanaticism about health and training was years ahead of its time and helped him to play successfully well into his forties. He won the finals MVP against Boston in 1985 at the advanced age of 37 and finally ended the Boston curse giving Laker fans and the organization the win over Boston they had long thirsted for. His accomplishments are mind numbing. When Kareem Abdul-Jabbar left the game in 1989 at age 42, no NBA player had ever scored more points, blocked more shots, won more Most Valuable Player Awards, played in more All-Star Games or logged more seasons. His list of personal and team accomplishments is perhaps the most awesome in league history: Rookie of the Year, member of six NBA championship teams, six-time NBA MVP, two-time NBA Finals MVP, 19-time All-Star, two-time scoring champion, and a member of the NBA 35th and 50th Anniversary All-Time Teams. He also owned eight playoff records and seven All-Star records. Elected to Naismith Memorial Basketball Hall of Fame. Named one of 50 Greatest Players in NBA History in 1996. No player achieved as much individual and team success as did Abdul-Jabbar. He remains the NBA's all time leading scorer. Another player on the short list of candidates for the best player to ever live.

Power forward: Elgin Bayor. The most tragic player in Lakers history. A 6 foot 5 athletic marvel, he combined the strength of Charles Barkley with the moves of Julius Erving. A member of the great Laker teams of the 60's with Jerry West that ran into Russell's Celtics seven times in the finals losing every time and losing again against the Knicks. That's and amazing eight NBA finals appearances for Baylors Laker teams! Count 'em. Every Laker scoring record that Kobe Bryant now breaks was set by this amazing athlete. He had every move in the book and invented others that had never been seen before, a precursor to Julius Erving, Michael Jordan and Kobe Bryant. Not only could he score at will but he consistently would have rebounds in the high teens and twenties. Some his achievements include: 10-time All-NBA 1st Team. In 134 playoff games, Baylor averaged 27.0 points and 12.9 rebounds. He led the Lakers to the NBA finals 8 times. From 1960-61 through 1962-63 he averaged 34.8, 38.3, and 34.0 points, respectively. He was selected 1959 Rookie of the Year after averaging 24.9 ppg and gave new hope to the struggling Minneapolis Lakers, who moved to Los Angeles in 1960. Baylor played in 11 NBA All-Star games, and scored 23,149 points in only 846 games as a pro. His career average of 27.4 ppg is third behind Michael Jordan and Wilt Chamberlain on the All-Time list. His best offensive season was 1961-62, when he averaged 38.3 ppg. Overall, Baylor averaged 30 points or more three times during his career. On December 11, 1960, Baylor became the first player in NBA history to break the 70-point barrier after he torched the New York Knicks for 71 points. Named one of 50 Greatest Players in NBA History in 1996. Baylor, who teamed with Jerry West to form one of the most feared scoring duos in the NBA, was named All-NBA First Team ten times. Elected to Naismith Memorial Basketball Hall of Fame. In one of bitterest bad jokes in sports history, the year he retired because of bad knees, the Lakers went on to win the NBA championship.

Small forward: James Worthy. A blur of fire power mixing athleticism and finesse, Big Game James was the perfect exclamation point for the Lakers Showtime fast breaks with either a head jarring slam dunk or scoop shot. In his prime he was just too big and too fast to be effectively guarded and repeated destroyed Larry Bird and his Celtic front court mate's efforts to stop him in three NBA finals match ups with Boston. Collegiate player of the year he led North Carolina over Georgetown for the NCAA title and then brought his winning ways west. He was 6 foot 9 package greased lighting, with a first step that many guards would have killed to possess. A member of three NBA finals championship teams he won the Finals MVP against the Pistons in the last Showtime championship. Elected to Naismith Memorial Basketball Hall of Fame; Three time NBA champion; NBA Finals MVP in 1988; Twice All-NBA Third Team; All-Rookie Team; Seven-time NBA All-Star; Named one of 50 Greatest Players in NBA History in 1996.

That's my list. I feel horrible about leaving off the great Jerry West and George Mikan, but as amazing as these players were, I just could not justify placing them above Kareem and Kobe. That says more about the latter two players than is an indictment on the former.

I defy any team, including the Boston Celtics, to come up with a starting five that would beat this team in a seven game NBA series.

Anyone who wishes to comment on my choices, please feel free. You can add your own players if you disagree or even set up a the bench if you feel you have knowledge to do so. As I said earlier, I just don't know enough about all those great Lakers players of the far past to move into the second team and feel any confidence about my selections. Hope some of you found this enjoyable.


Discuss 1 Review/Comment |
Email This
2009 Lakers and Bench Mob revisited.
Posted by: SPQR on Friday, June 20, 2008 - 05:06 PM
Lakers Blog
After a great 2008 season cumulating in a bitter end, there will be a lot of speculation about the future of the team and the fate of certain players.

The question remains, in order to take the final step, is change necessary on a team that came within two games of the ultimate prize? With the way Boston dominated us, will even the return of Drew guarantee a win over them next year?

Although the bitter and one-sided loss to Boston can create a reactionary rush to cure the flaws we displayed against them, is it wise to make major or even minor adjustments to a team that completely dominated its opponents in the West? The fact is that right now, as presently constituted, the Lakers are no worse than the third best team in basketball (we don't know how they would have fared against Detroit). If in the end we were to make changes, where could we best benefit?

Since in not a general manager and don't presume to know which teams are willing to trade their own players and for whom, I won't make idle fantasy trades in this post, but simply evaluate the team and its players from my perspective.

If the Lakers were a stock to be kept or traded on the market, they would be rising with a bullet, second only to the Celtics and listed as a much better long term investment than Boston. I will use this motif in looking over the players we have, some almost universally loved by Lakers fans, others not so well received.

THE STARTERS

This unit was good enough to carve out the best record in the West breeze through the playoffs and make the NBA finals. They all looked good until we hit Boston when the Celtics terrific team and individual defense, physical play and rebounding acumen exposed some crucial weaknesses. Boston is old and really is not a long term threat for Laker hegemony but baring a very rapid aging next year, that is the team that should join us for a Finals rematch. Since we know how badly they dominated us in several areas the urge to try make changes its there if we realistically want to change the outcome of this years series. Since the disappointing play of Pau and Lamar was a large reason for the loss trading one of them would be the logic route in an effort to get more a more physical defensive presence. I would agree with this scenario except for the fact that this team, without making a single move will be getting an all star caliber center back. Drew will cover for a lot of defensive lapses next year, at least as for as it pertains to players waltzing past perimeter defenders and scoring in the paint. This will also provide the benefit of moving Pau back to natural position of forward. By doing this his ridiculously soft interior defense and erratic rebounding will be mitigated to a large degree. I feel trading Lamar would also be a mistake. He is a tenacious, effective rebounder and if he is traded that would only leave Drew as the only legitimate board man on the team. I know if we have a rematch with Boston, the thought of only Drew trying to match Boston under the boards is not an appealing prospect. Likewise if Drew got hurt next year and we did not have Lamar our lack of rebounding would be devastating. Unless Lamar can be moved for a player of equal or greater facility at collecting rebounds, I would be very cautious about shipping him.
As good as the Lakers were this year; the one lineup we didn't get to see is Pau, Drew and Lamar. The potential of what these three may do is simply too tempting for me to want to not see it in action for at least next year.

Kobe Bryant: Despite his horrific showing in the Finals, still the best player in basketball. Unless you are getting the much younger Lebron James, theres no use even speculating on him. He's Kobe. He's the bluest of the blue chip players. Keep till retirement.

Andrew Bynum: The improvement this young dreadnought center made this year in spite of the paucity of playing time and experience he had in playing organized basketball(hardly any high school, no college, not a lot of professional experience)must have have been absolutely frightening for the rest of the league to watch. At the time of his injury he was putting up all star numbers and getting better in every facet of his game seemingly on a nightly basis. By the time he went out, he was already the second best player on this team. The moment he comes back, he will be so again. People say whe will have to adjust next year to playing with Pau and Lamar. This is not true. He is the superior player. They will have to adjust to playing with him. The Franchise's future. Blue chip all the way. Keep till retirement.

Lamar Odom: A tenacious rebounder and jack of all trades, master of none. He can get the tough rebound take the ball up the court, pass it off for an easy two or go to the hole. He can get you 18 boards or 28 points with equal facility on any given night. Not a very good defender or shotblocker. He can break your heart and your team by disappearing for long stretches at a time just when you need him the most. Seems to shun the athletic limelight. The quintessential team player, perhaps to a fault. Semi blue chip. Keep for the short term for evaluation as to how he plays with Drew.

Pau Gasol: The trade for him got the LA Lakers through the West and into the finals but he wasn't good enough, physical enough, intense enough or a as good a defender as the Lakers needed to clear the final hurdle. His value and performance should increase with a return to his natural position at forward. A good enough center for us to beat all the teams except for Boston who really preyed on his deficiencies. Keep for the short term for evaluation as to how he plays with Drew.

Derek Fisher: A true warrior in the sunset of a great career. Had a better season than anyone had a right to expect. Showed his age as the playoffs went on and had large stretches against Boston where he disappeared. Not the defender he was but still better than most of Lakers on the current roster. Moving to the bench may actually be beficical to both his career at this point and the Lakers if Jordan Farmar continues to improve. An old blue chipper. Keep for one more year.

THE BENCH MOB

This unit is a major cause of concern. Unlike the starters, their play began to dip against Utah and steadily declined until against Boston they were pretty much non existent. In the regular season where game planning is next to impossible, the intensity level is not that high and defense is many times half hearted, the Bench Mob looked good. All of them contributed to some degree and had their moments. Sasha was the standout. In the playoffs it was a different story. With intense game planning by the opposition, a severe ratcheting up in intensity and defenses they had to go against, the Bench Mob failed utterly. An argument can be made that they cost the Lakers the Championship series against Boston.

Sasha: A great heart with a gym rat mentality and great work ethic. He was a star in the regular season and playoffs-until he hit Boston. Except for his sparkling 20 point effort he was taken out of his game offensively and defensively. He is too much of a one dimensional player relying on his jumper and little else. Not a very good ball handler either. In order to take the next step up he needs to work on dribbling and driving to the basket as well as his post up moves. Work on his defensive footwork would also help him and the team. Every day he practices his jumper this summer is time wasted. Possible blue chipper. Keep.

Vlad: A former starter he will now return to the Bench Mob with Drew's return. A great asset when he's raining in threes and a huge liability when he's not. A horrible defender and rebounder. His shot is a thing of beauty when it's on, but he's just not consistent enough to make up for the problems he causes the team when he gets a lot of minutes. Fades against tough defense and physical play. This is one player the Lakers can and should move if they find the right opportunity. Sell.

Luke Walton: The liability. Judged not athletic enough by scouts when drafted, this assessment has been proven true. Whether you want to call it reflexes, fast twitch muscles or instincts-whatever it is, he doesn't have them. His physical liabilities are magnified greatly in the playoffs and against tough teams. He ends up looking lost and harried, missing easy jumper and lay-ups with regularity. Not a good defender or rebounder. Not a good post up player. Not a good outside shot. For all his purported intelligence loses the ball a lot and makes bad passes. Frequently fouls in frustration. He is 27 years old and should be in his prime. What you see now is what you get. What compounds the problem is his salary. He's tying up money the Lakers could better use on keeping other players or getting free agents. If the Lakers can find someone dumb enough to take they should in a heartbeat. Sell.

Ronny Turiaf: He is the myth of energy. He parlayed some towering eye catching blocks with a screaming, chest bumping, high fiving act that got him the misnomer of "Mr. Energy" by TV announcers. This is not even remotely true. He is "Mr. Enthusiasm" not "Mr. Energy." Energy implies production which Ronny does not give. Unfortunately, despite all the enthusiasm he shows, it does not translate into energy or production. His on court performance is as bad as Luke's. At 6 foot 9 or ten and close to 260lbs he is an abysmal rebounder. His offensive game is nonexistent and can only hit a short jumper if he is unguarded and even then with inconsistency. No post up game. Not a special defender. Even his trademark block shots dwindled away as the year progressed. He gets worse as the competition gets better. Despite his reputation, who does he play harder than; Sasha, Kobe, Lamar, Luke, Jordan? Anyone? A perfect example of a media creation that was bought lock stock and barrel by the fans. While he is only in his second year, he does not evince the basketball instincts that Sasha and Drew gave off even when they were playing bad. With those players, they were always around the ball, always moving, always looking alert and energetic. When one watches Ronny, he never seems to be around the ball, never invades the action. He can't seem to anticipate rebounds, get position or block out. Even on the rare occasions he does, so often another player seems to step in and grab the ball over him. He's always seems out of position or a second late. It's possible he will improve, but I have a feeling that Ronny is going to be pretty much what he is now. Another player on the bench the Los Angeles Lakers would be wise to move if they can. They already have a nice group of cheerleaders at every game. Sell.

Jordan Farmar: A very good regular season. He had problems against the big guard of Utah but came back again against the Spurs and had nice moments against the Celtics. Confidence improved once Utah was in the rear view mirror. Lots of heart and desire. A good athlete who needs to work on his passing and defense. If he makes the same incremental leap next year that he did this year he could possibly be our starting point guard in 2009. A possible blue chipper. Keep.

Trevor Ariza: Only 22 years old. A baby still. Nice athleticism and a very good defender. Needs to work hard on his offense. He seems to have very good basketball instincts and is always around the ball for rebound or a steal. Showed flashes of greatness in his eye opening stint against Boston. If he works hard could become a special player. Once can envision him ending up a Bruce Bowen type. Possible blue chipper. Keep.

In looking at what cost us against Boston and our obvious weakness, two free agents in the market stand out: Ron Artest and James Posey. Posey would bring the three point range that Vlad gives us but with the physical toughness and defensive mindset that Vlad does not possess. Posey would be a great acquisition for us and his defection would also hurt Boston, killing two birds with one stone. This player would fit perfectly on our team.

Artest while a great physical addition comes with the obvious baggage. He is an ultimate head case and has had trouble in every locker room he's been in, even winning ones. Can Phil, who somehow gutted it out with Rodman and Kobe keep this wild card under some semblance of control? If they can't it could become a nightmare. If they could he would help this team immensely in winning a title next year. Is he worth the risk?


Discuss |
Email This
NBA Finals game six: lambs to the slaughter
Posted by: SPQR on Wednesday, June 18, 2008 - 11:34 AM
Lakers Blog
The Lakers took their charter east, hoping to chart a path to one more win and push to a deciding game seven. Instead, they were being taken down the garden path like lambs to the slaughter by a Celtic team that was leading them to a place where they could be trussed up, immobilized, cut up and dissected at Boston's leisure.

The Laker death sentence was scheduled for 9pm eastern time and there would be no commutation of sentence by their legendary coach or a reprieve meted out by there MVP leader. The execution was carried out with malice and forethought. It was cold and it was brutal.

Kobe came out and scored and then Derek did the same to give LA a fast 4-0 lead. Kobe started firing threes hitting them in that spectacular way that he can when he has lightening in bottle. Before you knew it he had 11 points. But this, like everything the LA Lakers tried in this series and this game was just a mirage, so much smoke and mirrors. The Celtics had long ago gotten into the Great Man's head and his game far to deeply to allow him to have any impact on the celebration they had planned.

The first half of the first period was frenetic action and missed shots. Both teams scrambling to find a rhyme and an edge: Kobe threes. A Fish drive and score. No continuity on offense by either team.

Our center set the real tone for the game with his early play: Pau losing the ball. Pau collapsing on the floor as Garnett dunked. Gasol fading away and shooting and missing a jumper over the much smaller Paul Pierce.

The ominous warning signs were already being established. When the Celtics tied the game at 10 after shooting 2 for ten to that point, one could sense what was about to come.

Rondos jumper gave them their first lead at 12-10. Kobes last effective play of the game, his last three, gave us back a temporary lead. Pau missed another jumper. By this point Rondo had three steals, Pau three turnovers and the Celtic pressure was building

The damn broke with three straight Garnett baskets. Boston 20-18. This was followed by another Laker turnover, and an Allen two. A Jordan Farmar turnover and a Garnett dunk. Ray Allen had to leave the game from a hit to the head by Lamar. Farmar missed an easy two and Pierce countered with a two. Kobe missed a three he took from the Pacific Coast Highway. It would symbolize his entire night; desperation and confusion. The Celtics lead 24-20 at the end of one and were rolling.

In the second, the Celtics picked up where they left off and ABC could hear thousands of TV's across the country being shut off. Kobe took another bad shot. Pierce hit a three. Lamar threw a bad pass for a turnover, Kobe missed again. Ronny and Luke entered the game, and Van Gundy once again brought this observer a good chuckle as he talked about Ronny's "energy." With this "energy" once again in full force the Celtics got three offensive boards on one play and converted it into a three pointer. After another three the Celts had a nine point lead, all the momentum and the NBA championship. At this point they had seven offensive rebounds to LA's zero. It spoke volumes on what was happening in this pivotal sixth game that the Lakers had to have.

Kobe was way short on a jumper and the lead stretched to 21-12. The Lakers were led by sloppy, careless play from Kobe and Pau; Kobe drives into the teeth of the Celtic defense, dribbles behind his back and gets the ball stolen again. Posey converts with a three. Kobe by now had more turnovers than the one assist he would have for the game. You wondered if he had learned anything playing against this team, trying a move that dumb against a defense that good. Luke misses and easy shot, Farmar gets the ball stolen by Rondo again.

By now the game is a blur of Boston steals, blocks, fast breaks and threes. They accelerate into a 23-6 run which goes to 26-6 after another Kobe three point miss.

At the end of the first half nightmare Boston leads 58-35 holding the Lakers to 29 percent shooting.

The second half was just a more intense version of the second quarter. One half expected a Celtic cheerleader to come off a pick and roll and just prance to the basket for a lay-up…and drawing the foul. Allen rained in threes like he was Pacman Jones at a strip club with someone else's money. Just a comedy of mistakes and excruciating to watch featuring Pau backing to the basket, having the rug pulled out and falling to the floor like the worlds biggest wet noodle as he crumbled to the floor; Kobe was stripped again which was becoming his signature play of the game along with missed jumpers; Sasha leaving Ray Allen alone to shoot threes like he had the Ebola virus.

The Lakers looked like a fuzzy, gentle rabbit that had stumbled into a den of wolverines and was wondering why it was being torn apart in ten different directions and so desperately looking for an exit. Unfortunately in the NBA, you can't leave the court till time runs out.

The Los Angeles Lakers came to Boston looking to make history....and they did. By the fourth quarter they had allowed Boston to tie an NBA record 17 steals. It only seemed like 170. Allen has likewise by this time tied another NBA record with seven threes. It only seemed like 17. Finally and fittingly, Boston won by an NBA finals record 39 points. It only seemed like 139.

Some thoughts on this series and what it showed: I never thought a team could take a player as great as Kobe Bryant and flat out turn him into another just another basketball player on the floor, and lots of times a bad one at that. Has Kobe looked so bad in the playoffs since his rookie year? His abject failure brings one renewed appreciation for the dominance Shaquille O'Neal displayed in leading the Lakers to three straight championships. I have a feeling lots of Laker fans, and Kobe himself, have a new found respect for how Shaquille O'neal completely dominated three NBA finals, literally taking them in his hands and crushing out the opposition in game after game. Being the "Man", the way Shaq was, was no mean feat. What Shaq did was incredible and should never be forgotten by Laker fans, no matter how it ended with him. Kobe will have to wait another year to try imitate the big mans success in just one finals….let alone three in row.

Once the Celtics reduced Kobe to a just another player on the floor and by extension made Pierce the best player on the floor, this series was over. If Kobe was not the best player on the floor against Utah or San Antonio, we don't win those series either. Credit the Celtics for doing what was thought to be impossible.

The defense played in the West is WEAK. The Celtics showed how even the vaunted San Antonio defense is a paper tiger. I bet the only coach almost upset as Phil is Pops because now he knows how flimsy his defense really is and how far he has to go to revive that team. The Celtics took the Lakers offense apart from the ground up. You get the feeling if we had to play them again, they would win by 70.

The Lakers will have to shore up defensively, even with Drew next year, if we have a rematch with this team.

The Bench Mob is highly overrated. We have two good guards-Sasha and Jordan. We may have a very good young player in Trevor. We have two forwards who are worthless-Luke and Ronny. In the long, less intense regular season the Bench Mob can do the job with reasonable effectiveness. In the playoffs where teams can game plan you and defense and intensity go up three notchs, Lukes and Ronnys flaws are brutal for our team. If you don't think so, ask yourself, how much did they help us in the last three rounds? How much did Bostons bench help them against us?

Coaching: I've long suspected that coaching genius is overrated. A bad coach can hurt you, but all good coaches are fairly equal and there is little "coaching magic" that goes into victory. If two teams have good coaches, it's the one with the best horses that wins. If Doc and Phil were switched I think the results would have been pretty much the same. If there was any real "advantage" or "magic" a "great" coach can somehow conjure up then Phil, with a good team at his disposal this year, would have done so and won this series. I think a good coach is a good coach and Phil is no better then Red or Pat Riley or Doc Rivers nor are they better than he. Doc had the worse record in the league last year and now he wins the title. Did he suddenly become a genius in the off season? No, he got the players in the off season. It in the end it comes down to who has the horses.

Despite the dismal end this has to be classified as a very exiting and successful year. Kobe got his long overdue MVP award, the Lakers ascended to predominance in the West and now have a nucleus of players that will enable them to contend for championships for a long time into the future. Only two teams get to the NBA final and we were one of them. The teams achievements far outweighed the final outcome of their season.

The ending for this game was fairly predictable but the future is obviously bright for us. I'll take this season and look forward to the next with even greater anticipation. We will be back in the finals next year. Let's hope that next year we can make that last push and get our next ring.


Discuss |
Email This
NBA Finals game five: Lakers punch back for once.
Posted by: SPQR on Monday, June 16, 2008 - 12:42 PM
Lakers Blog
After the historic collapse in game four, one wondered what the Lakers would bring to the table in their last home game. Would they pack it in or would they show some pride and deny the Celtics a chance to celebrate on their home court?

Kobe came out obviously wishing to stop a humiliating Celtic coronation on Lakers ground. Looking like the MVP he was on fire, drilling 4 three pointers in staking the Lakers to and early lead.

The LA Lakers continued their good play in the second quarter, piling up a lead that resembled the fourth game. Unlike the last game however, there was no thoughts of a blowout from this observer as I wondered not if, but when the resilient Celtics would begin to chisel away at the large early Laker advantage.

Sure enough things started to change. Odom missed a wide open Ronny under the basket. The Celts began a damaging run and when Pierce hit a three pointer, the lead had been whittled down to 43-39. A Gasol pass to Lamar for a layup finally ended a 15-0 Celtic run. Tony Allen blew by Radmanovich for his sixth point of the half. When Kobe sleepwalked the ball up the court in the last seconds of the half, had it taken away leading to a three pointer by Pierce at the end of the third you could almost hear Jerry Buss calling the airport and telling them to put the Laker charter jet in the hanger for the rest of the year. The Laker bright spots were Lamars nine points, Kobes early fireworks and Jordans drives to the hole for much need points from the bench. One interesting sidenote was the insertion of Chris Mimm into the lineup instead of Ronny. This was a tacit admission by Phil that Ronny has be useless to the team, which he has. Mimm didn't do any better and Ronny was once again inserted...his "energy" doing its usual nothing. I don't think at this point any objective fan expects anything else from him. His myth of "energy" has long been exposed now in these playoffs and he is no better a player than Luke.

The third quarter has been won by Boston the whole series and it didn't start any better this game. An Allen three tied the game and both Pau and Vlad missed a layups. At this point one could see the inevitable collapse coming.

Low and behold, a funny thing happened. Instead of collapsing, the Lakers for the first time perhaps in this series dug in and punched the Celtics back in the face. Kobe got a rebound for two. Fisher hit a two and drew a foul. When Vlad canned a three the Lakers had actually taken a quarter that had been previously been Celtic territory and claimed it as it's own and taken a seven point lead.

In the fourth Farmar continued his nice play, once again driving for a deuce. When Lamar canned a three the Los Angeles Lakers had a twelve point lead and the Celtics on their heels. As they built a 14 pt lead in the fourth, you didn't take anything for granted, but it was nice to watch them actually compete and not melt from the Celtic pressure.

The Celtics made one more push and when Posey hit a three the lead was cut to four. Garnett hit a basket to tie at it up at the 4:28 mark. The Lakers held on for dear life and fought back for a small lead down the stretch and when Kobe knocked the ball from Pierce and Lamar fed him streaking down the court the Lakers had forced the series to a sixth game. It was interesting that Jordan played these last crucial minutes instead of Sasha, who except for his twenty point game earlier in the series has been having problems, like all his teamates.

Some impressions: It's amazing to watch Boston limit Kobes effectiveness game after game. They have done a tremendous job on him, making him almost nonexistent for long stretches. They use great team defense, but Paul Pierce deserves kudos also for taking on the hardest job in the NBA-guarding Kobe for long periods of time-and doing a great job of it. He's doing a vintage Bruce Bowen impersonation, only better.

The absence of Perkins opened things up for Lamar and Pau. Both players had their best all round games of the series both scoring and rebounding. Both men had moments when they actually fought Boston down low; a rarity in this series for Lakers.

The insertions of Mimm over Ronny and Jordan over Sasha is showing is indicative of how much the Bench Mob is failing and how desperate we are to get any kind of bench help. Only Jordan out of the four was effective in this game.

The game was a really nice win, if only to not let Boston celebrate number 17 on our home court. Making them go to game six is also a victory in itself after the game four collapse. Also nice to watch the Lakers compete physically to a successful degree for once with the Celts.

However, the fact that at home, without Perkins and with the best games all series from Lamar and Pau we were still forced to hang on after opening a big lead does not give one much confidence with the series headed back to Boston, where we will play worse and they will play better.

I get the feeling that come Tuesday, we will be forced to watch a very ugly end to a very fun 2008 season.


Discuss |
Email This
NBA Finals game four: Requiem for a team
Posted by: SPQR on Friday, June 13, 2008 - 01:57 AM
Lakers Blog
Laker players, coaches and fans packed Jerry Buss's cathedral to modern sports hoping to continue with a second consecutive win and further their resurrection against the hated Boston Celtics. In on of the most stunning turnarounds in NBA championship history and one of most painful losses in Laker playoff history, a Celtic team that was too tough, too good at what they do and too determined not to lose took one of the best playoff games the Lakers played all year and twisted it into a grotesque final requiem mass on the Lakers 2008 title hopes.

The Lakers who swept through the West like a finely oiled thresher machine cutting down wheat finally showed up belatedly in game four. This was the team that cut down Denver, out scored Utah and humiliated San Antonio.

The LA Lakers came out on fire and determined to put this to bed fast and send a message. Odom, Kobe and Fish all drove to the basket drawing fouls in the opening minutes. Lamar Odom played like a man who had missed the first three games with the flu and had finally found himself with a weeks worth of pent up energy. Before you knew it, Odom was three for three, attacking the basket like there was no tomorrow.

The Lakers pulled out the whole bag of western playoff tricks, running, passing, dunking, playing inside out. When Vlad hit a three, the Lakers were up 20-6 and for the first time in 6 games this year against Boston we had broken their defense and bent them to our will. The Lakers 21 point lead at the end of one was the largest in NBA championship history and accurately reflected what was happening on the floor.

In the second, with the bench in, Phil did not repeat his mistake of game and left one starter in-Pau-to keep things a little more comfortable for the bench players. At this point Trevor Ariza gave a brilliant tour de force in what real "energy" play is all about. A block, a dunk, a three, a steal, a rebound. Before you could blink this young man had 6 points and 5 rebounds and given a mouth watering display of what the future holds for this 22 year old Laker.

When Lamar Odom drove to the hole he was seven for seven and we were flying. The Lakers showed how impotent Bostons hopes were by deflecting a 12-2 Boston run and with a Farmar three at the buzzer we took an 18 point lead into the locker.

In the first half, the Lakers were a work of art; attacking the basket, passing, scoring, running, rebounding and defense. It was the best the Los Angeles Lakers had looked all year.

In the third quarter, the Celtics came out a beaten team determined not to be beaten; not on this night, not by this Laker team. The decline was slow, insidious. The lead dropped by a few, then a few more. No one really felt it would last. Like in the first half when Boston pushed, the Lakers perfect offense would crank back up and the inevitable lead would grow. No one felt it would last but a Celtic team that knows how to grab your throat and not let go till have nothing left to give, no where to turn.

A 21-3 Celtic run was capped by a PJ Brown dunk over Pau at the end of the third.

By the forth, the Lakers will was visibly broken. Like in the previous five games against them, they looked caught in the type of nightmare you keep trying to wake up from but can't; attacking the basket became harried jumpers, running became stagnation, rebounding and defense were now the perview of the Celtics.

As the LA Lakers missed 20 of their last 26 shots, the dream of a 15th title died a little more on each futile offensive possession. With each defensive breakdown, the Celtics dream of a 17th title congealed and hardend from the the slippery quagmire of their first half into the dry firmament of the second half.

On the final Celtic score, Ray Allen waved everyone off and took Sasha one on one to the hole. It was a metaphor for the whole series. Ray was the better player than Sasha, Ray was more confident than Sasha, Ray imposed his will on Sasha, Ray won the battle with Sasha. So it was on that singular play between two players and so it was over the series between the two teams.

By taking on the Lakers who we saw in the West playoffs, by taking the Lakers best and most ferocious shot they threw at any team in this post season and comming back from 24 down to win for the fifth time in six meetings this year, the Celtics made an emphatic and unequivical statement: This is no team winning on "fake" ankle injury heroics. This team is not winning on "bad calls". They are not winning on some nebulous "manipulations", "cheating" or some "weirdness".

The Boston Celtics are winning this series because they are better at what they do than we are where these things are always decided: On the court, team against team, will against will, talent against talent.

The Celtics are winning this series because in five of six meetings this year, they have made Kobe Bryant a human being and not Superman. The are winning because in five of six meetings this year, they reduced the high octaine v-8 offensive engine of the Lakers to a four cylinder ecomomy car. The are winning because in the end, as the game goes through all four quarters, they execute their defense better than we execute our offense. They win because on every night, they have another hero who steps forward to give invaluable help in a win: Cassell, Powe, Posey. The Lakers have players who can't take that challenge: Luke, Ronny. They are winning because they are tougher, rebound better, will die to beat you. They win because when the rubber hits the road, they are mentally harder and take the pressure better than the Los Angeles Lakers. The are winning because they bend our will to theirs and enforce their style on us. They are winning for the reason that all teams win a championship-they are the better team.

Some thoughts that struck me: Why did Phil keep Derek and Lamar on the bench down the stretch? I guess he wanted Vlad in to spread the floor, but Lamar was a monster and deserved to be there at the end. Why did he have young Jordan in there instead of D Fish? When Jordan missed that open three near the end I thought of it again. When the Celtics get their defense really going, the Laker offense is no match at all.

Pau had one of his better efforts......but even with that four plays stuck with me as I watched. In two instances he had perfect inside position for easy scores. The ball got to him and ....it pops out of his hands then out of bounds. On both plays he looked like he was sleeping, not ready for the passes. On another play, he went up soft again to the basket and got his shot easily rejected. As the announcer said at the time, he had to go for it, draw the foul, not feather it up there. As we fought to regain the lead before it was too late, I thought alot about how much those six points would have changed the final minutes. Paus lack of defensive switch on Allen when Sasha had dogged him so hard also hurt like hell. He could not and should not let Ray just drive in there and get that layup. Pau is an intregal part of this team but it will be nice to see him moved back out to forward next year. I hope so much Drew never has to miss alot of games again.

Trevor Ariza showed Ronny Turiaf and Laker fans in his incandescent cameo tonight what real "energy" is. Real energy translates into posative production like points, steals, blocks and rebounds. Energy impacts a game. Ronny Turiaf does not have energy. He has enthusiasm. There is a big difference. Enthusiasm is screaming, yelling, high fiving and jumping around. While its nice to have enthusiasm, it does nothing to help your team win. If Ronny Turiaf ever wants to become any kind of player in this league and have any posative impact for this team, he needs to change his enthusiasm to energy. Right now he is as useless as Luke Walton. Maybe more so.

There will be another game, maybe more before the final denoument and trophy presentation, but the Lakers 2008 championship hopes officially dried up with that 24 point lead. It actually ended months ago, on the night Andrew Bynum wrecked his knee.

Dreams die hard, and so do teams. I hate losing to Boston but unlike Magics 1990 championship loss tp the Bulls, I don't have a feeling of finality. Instead I feel like I did in 1984 when we last lost to Boston; that the future is ours. After 1984, no Celtic fan rooted harder for Boston to return to the finals than I did. It was because I knew we would win it the next year and I wanted them and only them.

Next year I will repeat that pattern for the same reason. I will root for Boston with all I have to make it back. I want them and only them...


Discuss |
Email This